ASHLAND — Edward "Nat" Speaks, circulation director of The
Independent, died Tuesday after waging a valiant year-long battle
with cancer. He was 57.
Speaks, a 1973 Paul G. Blazer High School graduate who began
working for the newspaper as a carrier and stuffer while in high
school, is survived by his wife of 39 years, Cindy Speaks, a fellow
Blazer Class of '73 member who works as a secretary at the school;
a son, Adam, and daughter, Sara, both of whom live in Lexington;
and three grandchildren, Ellie, 8, Olivia, 5, and Sophia, 17 months.
In an August interview, Speaks said he learned he had cancer in November
of last year when he went to have a lesion on his neck tested. The test
showed positive for cancer, but also indicated the disease was in his lungs.
Subsequent tests revealed the disease had spread to other parts of his body, including his colon and liver
Cindy Speaks said her husband's cancer was already at Stage 4 by the
time it was detected
"Today is a sad day at the Independent," Publisher Eddie Blakeley said
. "Nat has been a part of the Independent family for parts of five
decades and it will not be the same without him here. He was a valued
not so much about work, but about his wife, Cindy, his children
, Sara and Adam, and his grandchildren. He was definitely a proud
dad and grandfather.
"He fought a valiant battle and never once did I see him down
or depressed about the situation,"?Blakeley continued. "I have never
met anyone in those circumstances that faced it head on with a
more positive outlook. It's like he decided that he was going to
enjoy every moment that he had left and not let his situation
prevent him from doing that."

In August, a Blazer alumni group known as Tomcats for Tomcats
presented Nat and Cindy Speaks with a "Wildcat Weekend" getaway — an
all-expense-paid trip to New York City the first weekend of December to
watch the Kentucky men's basketball team play Providence at Barclays
Arena in Brooklyn. In addition to game tickets, the package includes air
fare, two nights of hotel accommodations and spending money. Speaks'
co-workers also passed the hat and raised an additional $425 for the
couple.

According to Independent Editor Mark Maynard, a member of Tomcats for
Tomcats, the group decided to put together the special surprise for the
Speakses after another group member, Luann Serey, ran into Sue Fosson,
one of Speaks' co-workers, and learned of Nat Speaks' illness. Serey
brought it to the group's attention.

With Nat Speaks passing before he could make the trip to New York to
watch his beloved Wildcats play, the money that would have been spent on
the trip will instead be given to his family, Maynard said.

In making the presentation to the Speakses, TFT member Mike Craft
related a humorous anecdote of how he and Nat took a church youth
basketball team to a tournament in Ohio the same weekend UK?was
playing in the Final Four in 1996. Because they both wanted to watch the
game so badly, they brought along a small TV, he said.

On the trip home, Craft said, he juggled the TV?on his lap as the reception
faded in and out. Speaks, who was driving, kept asking for updates on the
game, which he said he was unable to give him because the signal was so
poor.

"Finally, I looked up and neither of us were watching the road,"?Craft said.
"It's a wonder we made it home safely."

A friend to all

Speaks is the third longtime Independent department head to pass away
in the past five years. The others were Business Manager Rick Rakes in
2008 and Editor Mike Reliford in 2012.

Speaks and Rakes were close friends. In fact, Adam Speaks said Monday
his father, a religious man, had recently told him Rakes was the first
person he wanted to see when he got to heaven.

Independent Mailroom Manager Bengy Barrett, a 50-year employee of the
newspaper, recalled working with Speaks in the mailroom when both were
teenagers, and how Speaks didn't really fit in with the "rambunctious"
crowd who worked in the department in those days because of his quiet,
gentle nature.

Later on, Barrett said, he and Speaks both worked as circulation district
managers, where he said they "passed a lot of papers together.

"Back then, 99 percent of the carriers were kids, and they'd drop out on
you in a heartbeat, and, when they did, you'd have to cover their routes,"
he said.

Barrett recalled how he and Speaks both kept sneakers under their desks,
not only for when they had to walk paper routes, but to wear during the
daily in-house pingpong matches that were once a newspaper tradition
Barrett said he remembered Speaks as being a "pretty fair" pingpong
player. But what he said he'd remember most about him was how "he
always had a positive attitude, even through the sickness. He was a
devoted newspaperman, a devoted husband and father and he was my
friend."

Former Independent advertising representative Danny Duncan, a close friend
of Speaks, echoed that sentiment.

"Nat was the most positive person I'd ever met," said Duncan, who became
friends with Speaks in the early 1970s while working at the newspaper. "He
never said to me 'Why me? This isn't fair or I don't deserve this.' He never
said that to me or anybody."

Duncan, advertising director at The Morehead News, said Speaks was also a
good athlete and he played on bowling teams, softball teams and basketball
teams with him while working together at the newspaper.

"I don't know if The Independent had a more devoted employee. He worked
until he physically couldn't work anymore."
Duncan and Speaks were almost like brothers," he said. "That'show I felt
about him. He knew what I was thinking and I knew what he was thinking.
We could finish each other's sentences."
Speaks also had a devotion for Cats — as in Kentucky Wildcats and Ashland
Tomcats, Duncan said.

"He did love his Cats," he said.
Putnam Stadium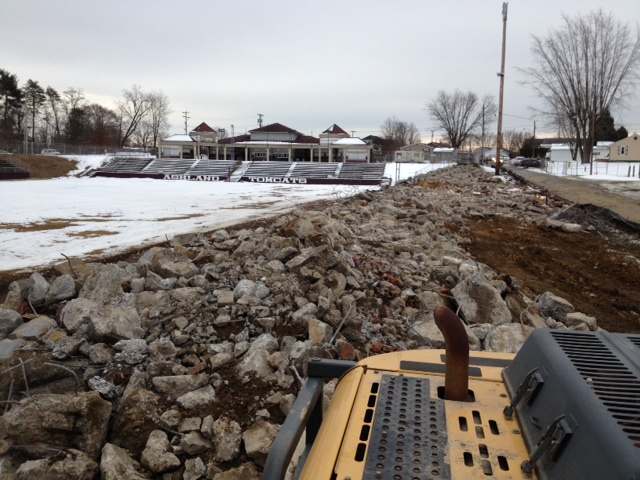 Demolition of Home Side Bleachers
Putnam Stadium's demolition has begun. Phase one of the new stadium is scheduled to be completed just in time for the 2014 football season. This is a very exciting time for Ashland and all PBHS and AHS alumni. As time goes by, the original Putnam Stadium will only be a memory and the subject of stories we tell our family and friends. We'll talk about how we saw State Champion Tomcats play in the old stadium and how Tomcat Bands, Majorettes and Flag Carriers took the field at halftime and dazzled us in their beautiful maroon and white uniforms marching in unison as they played Chicago's "25 or 6 to 4"and Cliff Nobles "The Horse". We'll tell them how the crowd roared after each Tomcat touchdown, a cannon was fired from our ROTC and cheers from the stadium were heard as far away as Hager, Condit, Poage & Oakview elementary schools.
As you are reading this, the stadium that created these cherished memories is preparing itself for new generations of Tomcats. The TFT (Tomcats for Tomcats) wants to be part of this historic event and pay it forward to the next generations of Tomcats. Prior to the demolition of the Stadium, the TFT came across unique one of a kind photographs of the stadium that take us back to our childhood days. These one of a kind prints are numbered and limited to only 300 copies. These beautiful prints have the TFT insignia written in gold on the bottom left corner proudly displaying your commitment to serving others. Prior to making a public announcement to all Ashland residents, we are offering these limited prints to TFT members and the Class of '75 on a first come basis. When the last print is gone, we will not publish the prints again. There are 2 prints that are 8" x 10" each and 1 print that is 11" x 14". A $50 donation to the stadium gets you one of the 8" x 10"prints and a $75 donation to the stadium gets you an 11" x 14" print. Each of the colored images is professionally printed on high quality paper ready to be matted, framed and proudly displayed in your home or office. These prints are a perfect gift for your son, daughter, brother, sister, parents and even grandparents. The prints are also a great family heirloom to be passed down to future generations.
Jolinda and Steve Conley are the originators and sponsors of this unique TFT initiative. They somehow captured the spirit of Putnam Stadium in each of the prints. Steve has been an active stadium committee member since its' inception in 2007 and Jolinda the TFT treasurer since 2011.
Securing one or more prints is easy, but supplies are limited. To reserve your piece of Putnam Stadium history, simply make a check out to: The TFT Fund, include your return postal address and mail to Jolinda Conley @ 2708 South 29th Street, Ashland KY 41102. There is no shipping cost to you and 100% of all proceeds will be donated to the new stadium project. If you would like to personally view the prints, they will be on display at the South Ashland Greenhouse on 2506 South 29th Street, Ashland KY beginning February 24, 2014. Our goal is to donate at least $10,000 to the stadium project and have the TFT insignia forever displayed in the new stadium signifying that paying it forward to others is the true meaning of being a Tomcat. The lower number prints will be on a first come basis. Once your check is received, your print(s) will be mailed immediately via US Postal delivery. Don't miss out on this very special gift. Your donation will make a significant difference in the life of a future Tomcat.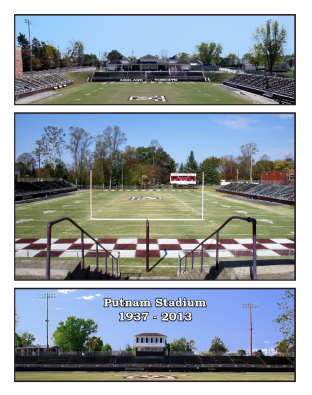 Print #1
Putnam Stadium 8"x10"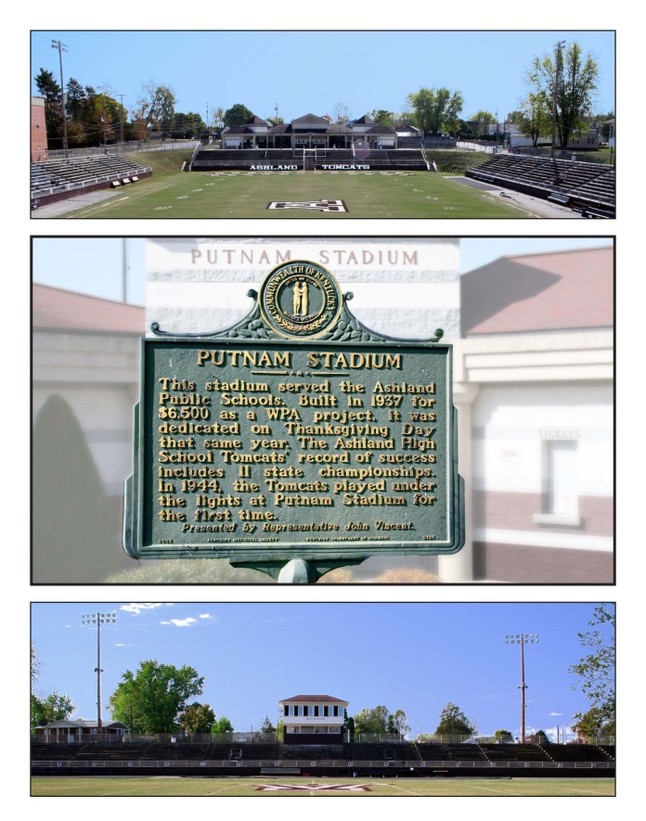 Print #2
Putnam Stadium 8"x10"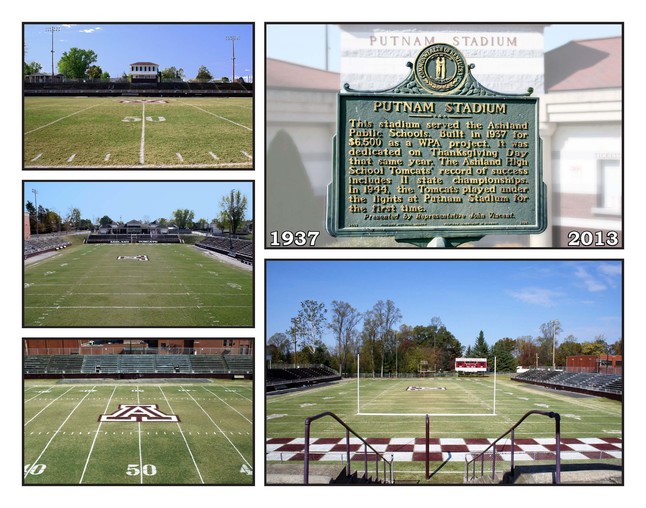 Print #3
Putnam Stadium 11"x14"
May 14, 2014
ASHLAND — It usually takes years to develop a passion in life.

Ethan Sellars is only 10 years old, but he's already found it.

It's Ethan's dream to eradicate cancer for good because of what it took away from him three years ago. Ethan's grandfather and best friend, Greg Estep, died from the disease.

Ten months after Greg's death, on Ethan's seventh birthday, he decided he didn't want gifts. Instead, he said, give the money you'd have used for a gift for cancer research. They took $500 to the American Cancer Society where they also learned about the Relay for Life, an event that celebrates the lives of those who have cancer and the families of those who have lost loved ones to the disease.

Giving up your birthday money? That's a bold move for a 7-year-old, but Ethan Sellars is no ordinary boy.

"He literally thinks he will be the one to raise enough money to find a cure for cancer," said Greg's widow, Pam Estep. "As my son, Chris, said, 'There's been a fire lit in Ethan.'''

That passion burns inside of him and it's keeping his grandfather's spirit alive and well.

On Saturday, Team Bama will be one of the groups represented at the Boyd County Relay for Life at the Fairview football field. The 12-hour event starts at high noon and activities stretch throughout the day and into the night.

Team Bama (Greg was a huge Alabama football fan and thus so is Ethan) will be the tent with three inflatables, a gift certificate basket worth $1,000 and plenty of good food.

They come into the afternoon already having raised $6,500 after some amazing donations made their way to them.

Pam Estep says she stays in a perpetual state of being overwhelmed by the generosity of friends, family and sometimes even strangers.

Three years ago they were at the first Relay for Life event and raised about $2,500, including a $1,200 donation from the Tomcats For Tomcats organization founded after Greg's death. The TFT, a group mostly made up of Ashland graduates, has been a helping hand to many in need. Bob Fosson, TFT president, told Pam as long as Ethan was involved with the Relay for Life, the organization would be behind him financially and in every other way.

TFT members David Lynch and Jolinda Conley came to Pam's house earlier this week with a check for $2,118 made out to Team Bama for the Relay for Life. That easily pushed Team Bama past its goal of $5,000 and there's still a full day Saturday to raise more money.

"I told them when they came over, there aren't even words to express," Pam said.

Team Bama started in the fall with a Spring Fling that raised $1,200, and that's where Pam was put in touch with the Disciple Motorcyle Ministry through Heather May. That group bought $800 worth of shirts and donated $1,200 more to the cause on an exciting day.

The coffers were filling up quickly.

Part of the reason for community generosity is because Greg was a community person. He loved Ashland and her people.

Now they're loving him back the only way they know how.

When Pam was looking for gift certificates, she thought about Moe's, where Greg often frequented for lunch. They called him "Norm" when he came in after the famous "Cheers" character.

"When I called Randy at Moe's I told him I was 'Norm's' wife," Pam said. "He said, 'Oh, Norm's wife! I'd be honored.' He told me to come down and he gave me a $100 gift certificate."

And on and on it goes, she said.

Ethan is getting older and better understands the sacrifice some are making in donating to the cause, his grandmother said.

"It has been such a great outpouring," she said. "We feel so blessed."

Chris Estep sent a letter to the TFT thanking members for the support and telling them Ethan's tenacity comes naturally since he's "got a little 'Mad Dog' blood in him."

"Mad Dog" was Greg's nickname in high school when he was quarterback of the Tomcats.

"Greg would have been so overwhelmed with the motorcycle ride and the gift from the Tomcats For Tomcats," his wife said. "He had some great friends who are such good people.

"I know he'd be proud of Ethan, too."

We all should be a little proud of him. His passion may well be a blessing to many before he's finished.

MARK?MAYNARD can be reached at mmaynard@dailyindependent.com or (606) 326-2648.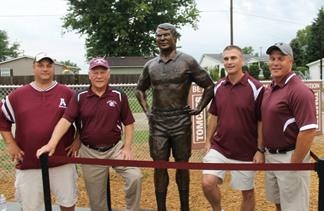 The open house for the "new" Putnam Stadium was a huge
success!
Jolinda was there selling prints and a few other TFT members
stopped by for a look at all of the improvements. The field
looked fantastic….great job Steve Conley!!!
This week Jolinda presented Tim Walters, with the Putnam
Stadium Committee, a check for $2,500 and a print to hang in
the board room. (attached). The money came from all of her print sales to date.
Great job Jolinda!!!

Thanks for all that you and Steve do for the Ashland community
and for our Tomcats!....now that's "PAYING IT
FORWARD"………Greg is giving you a big thumbs up!

The home opener last Friday night was cancelled due to a severe
thunderstorm. However, there was time to unveil the statue of
Coach Conley…..what a fantastic tribute to a great man!!! I only
wish I could have been there to thank him once again for all he
did for me. Thanks Coach!
The Stadium Project still needs our help and donations.

I just remind you to go to the web-site
, www.putnamstadium.com and make your contribution. It only
takes a couple of minutes and every dollar helps the cause.

Several of you have told me that you have made it a habit to go
to the site each month and make a contribution. Thank you so
very much for doing this.

We want TFT to be well represented in our giving. KEEP IT
GOING!

To all that have contributed….THANK YOU…..to all that plan, to
GIT'ER DUN!!!!!


God bless,

Mike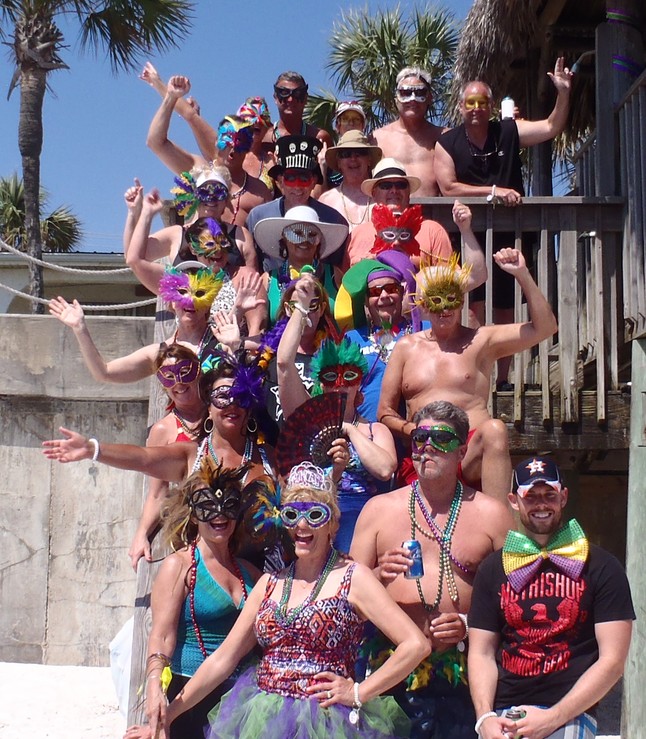 The TFT had another wonderful get together at Mexico Beach
Florida in May. As you can see, this year's theme was "Mardi
Gras"
24 members attended this year. We had great weather, great
fishing, great company and great food! Vicki and David Lynch
along with Leighanne and Keith Daniel brought a bit of home to
all of us by serving up Giovanni's pizza and Snyder potato chips.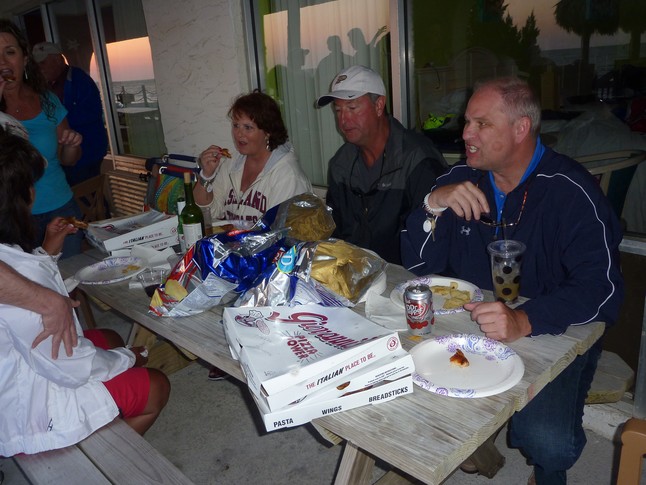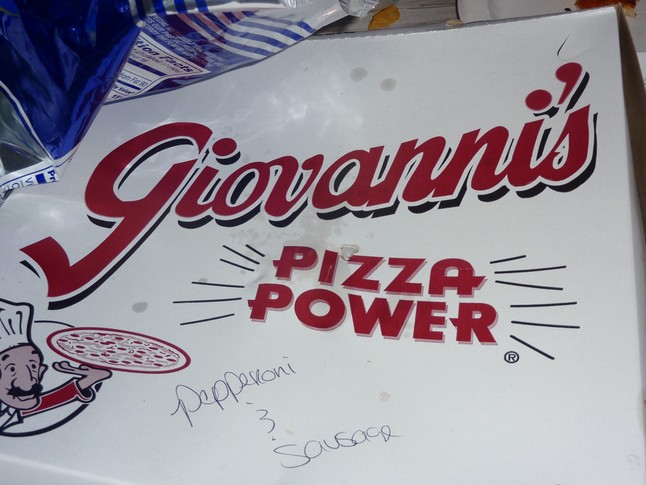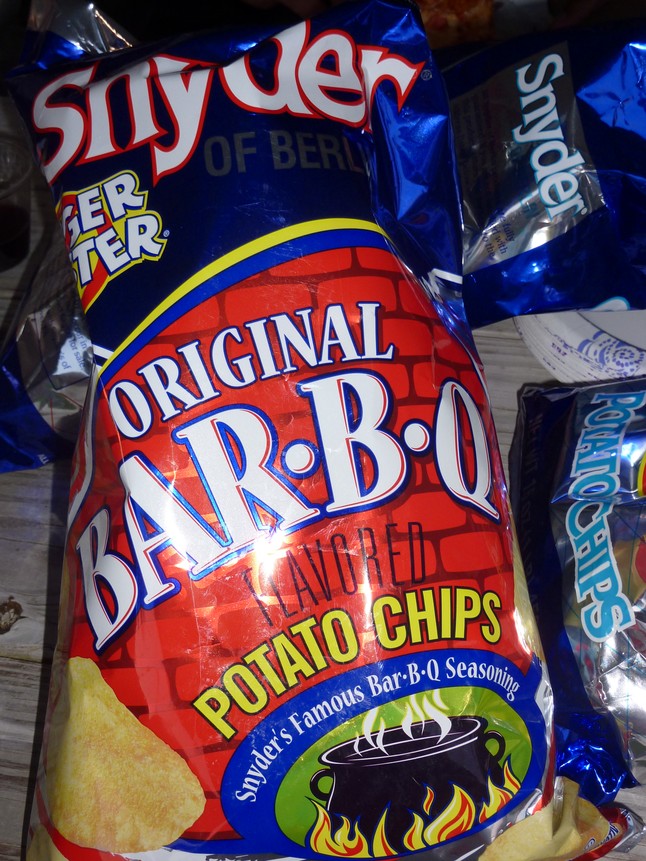 Rob, Jackie and Shawn Brooks brought a mess of "Oz-BQ all the
way from Texas.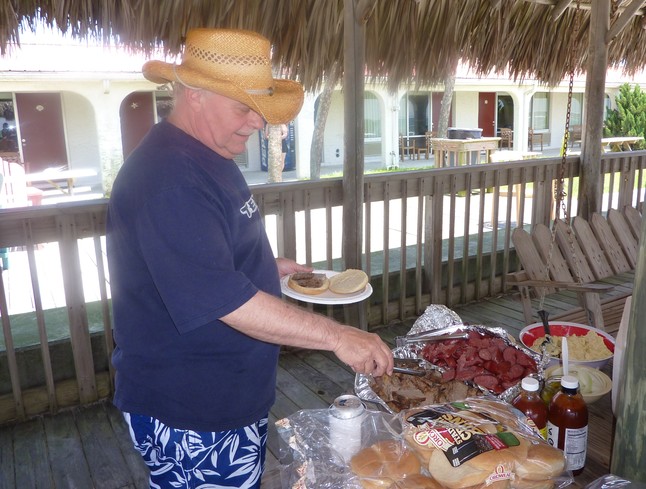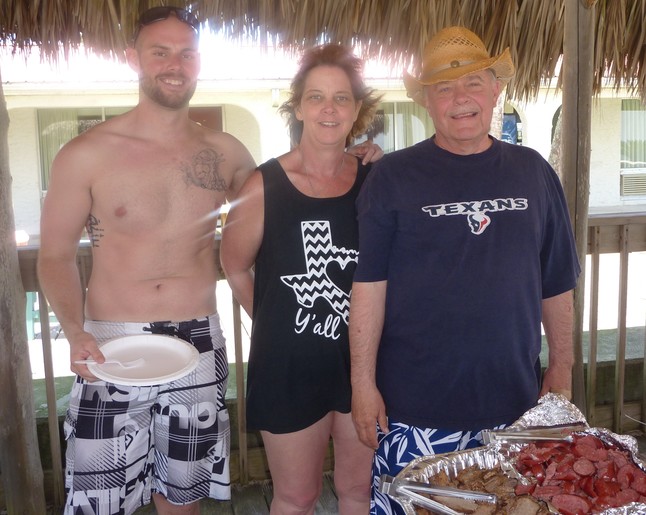 Bob and Annette Fosson and Sherry and Randy
Maddux again prepared a wonderful breakfast buffet with
wonderful homemade frittatas.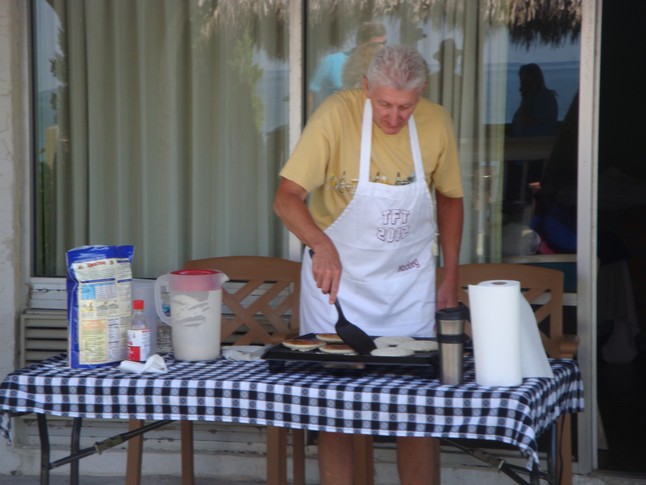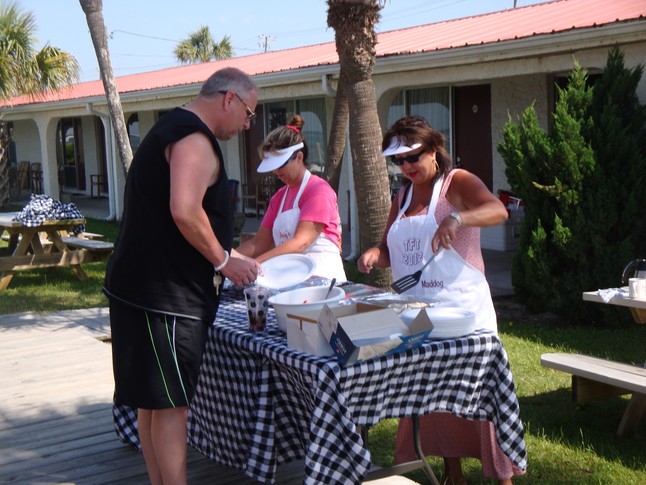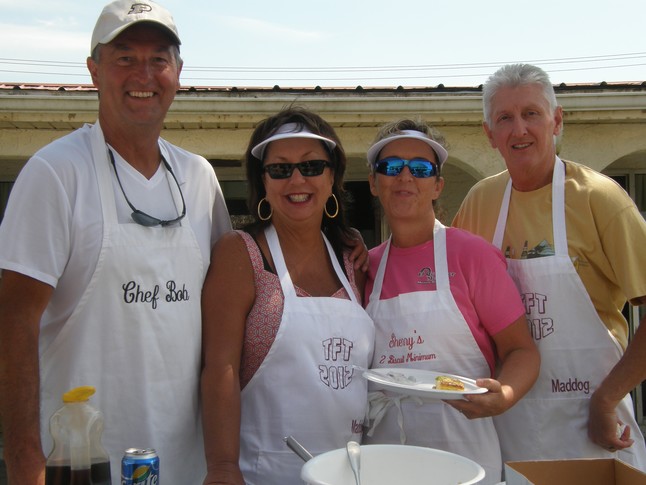 Deborah and Rick Allen hosted an
Alabama Shrimp Boil. Mike Gothard showed us all how to eat a
crawdad.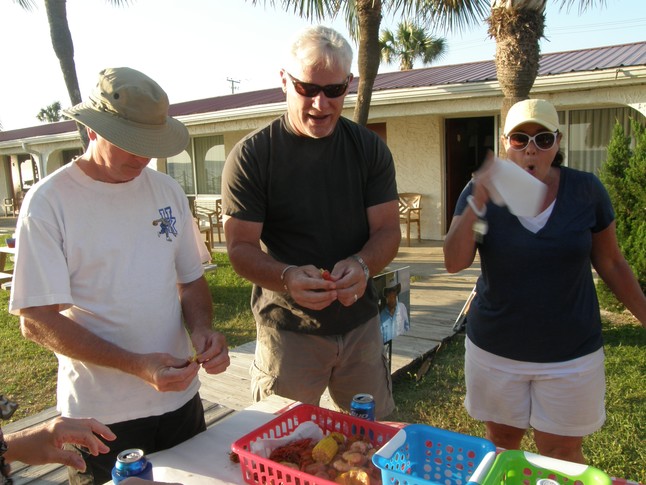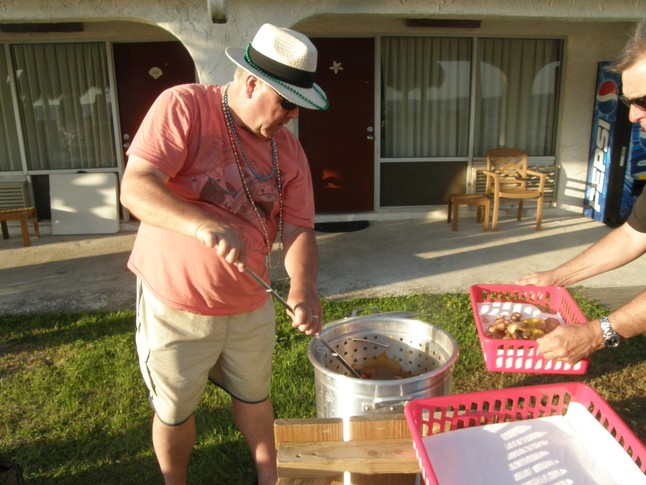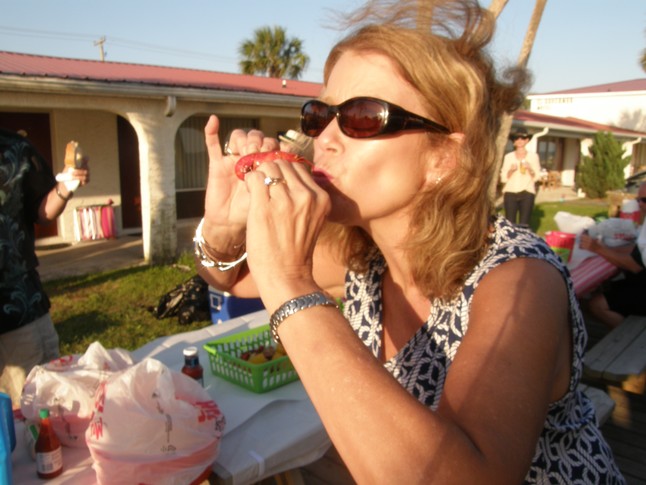 9 Fisherman boarded the Lady J to go 65 miles out to sea
to catch Beeliner, Skamp, a few sharks and of course,
Amberjack. The Dolphins came out to play and try to
steal our fish, but first mate Trey helped us save our catch.
We brought home over 460 lbs which was quickly filleted,
cooked and served at the Marina.
This year's biggest Amberjack was 65 lbs...(although I
think the scale says 70 lbs...what do you think??)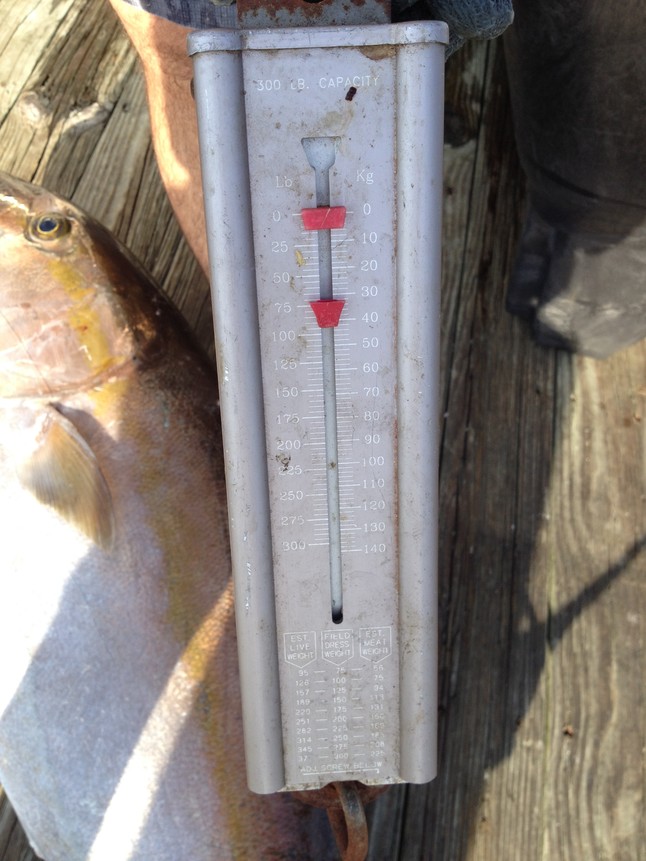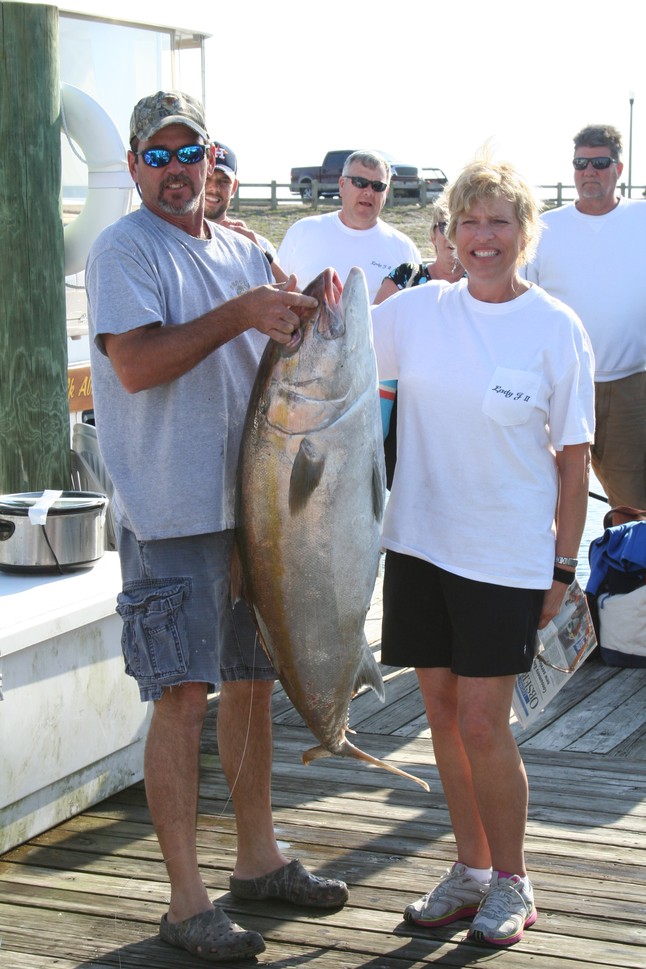 We will meet again next year, the third week of May in Mexico
Beach, Florida and the El Governor..Everyone is welcome to
attend. Remember, you don't have to fish..You can stay and
guard the beach! Either way, it will a trip to remember!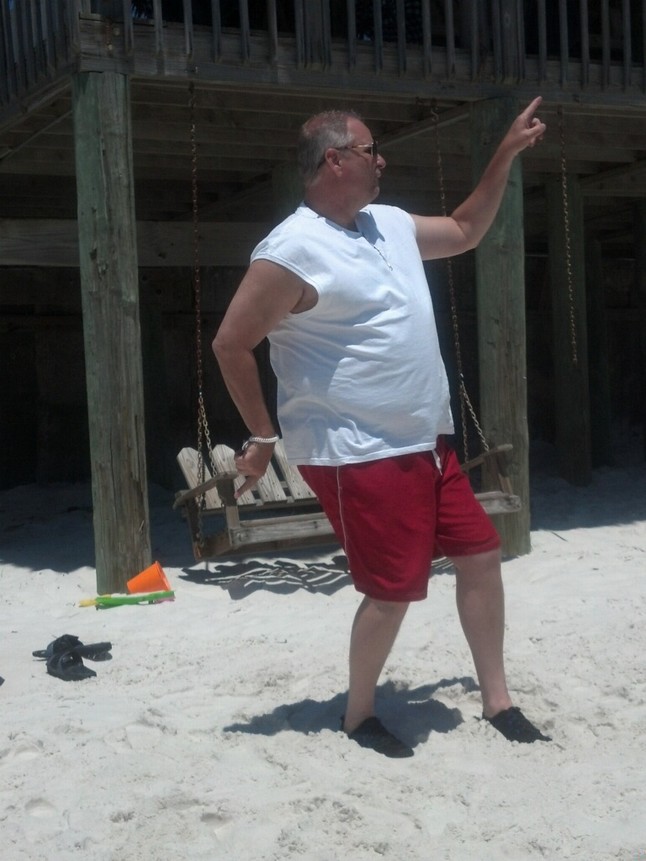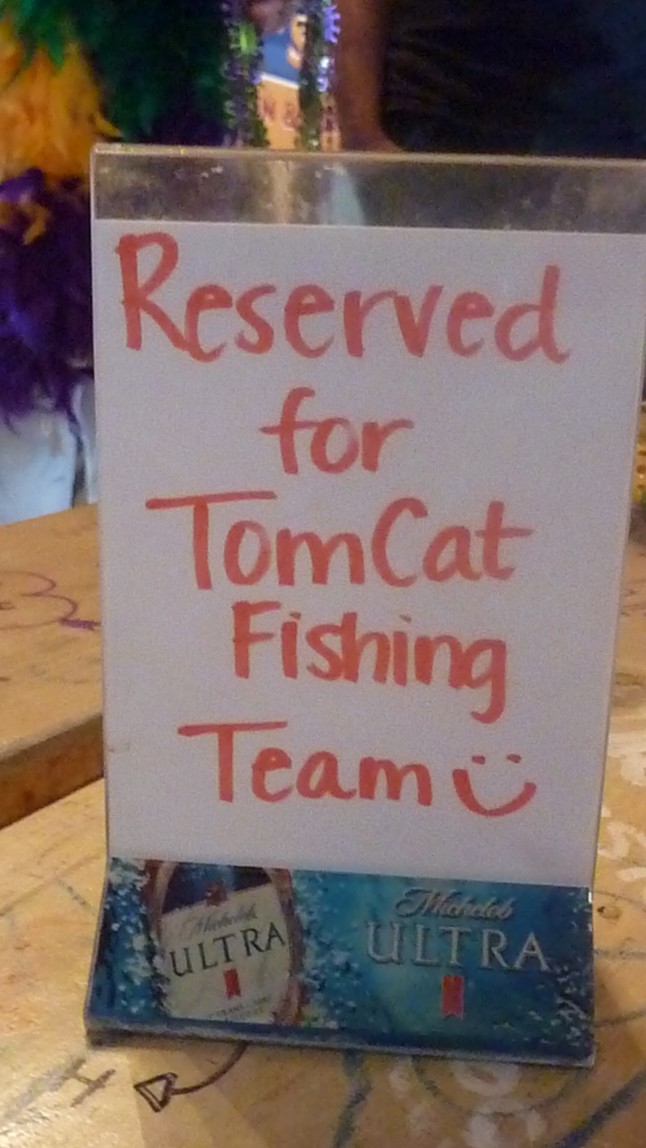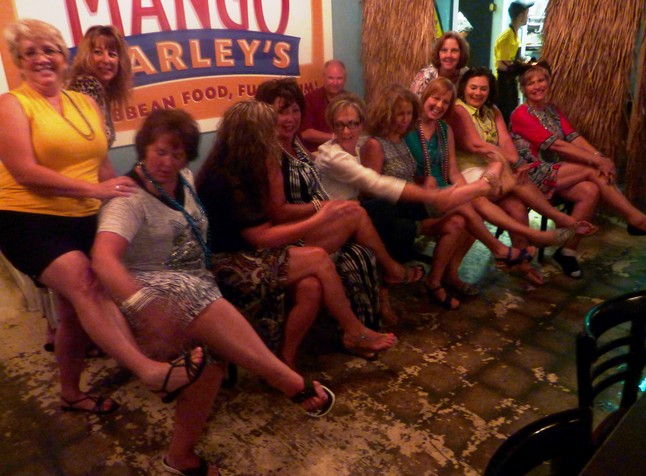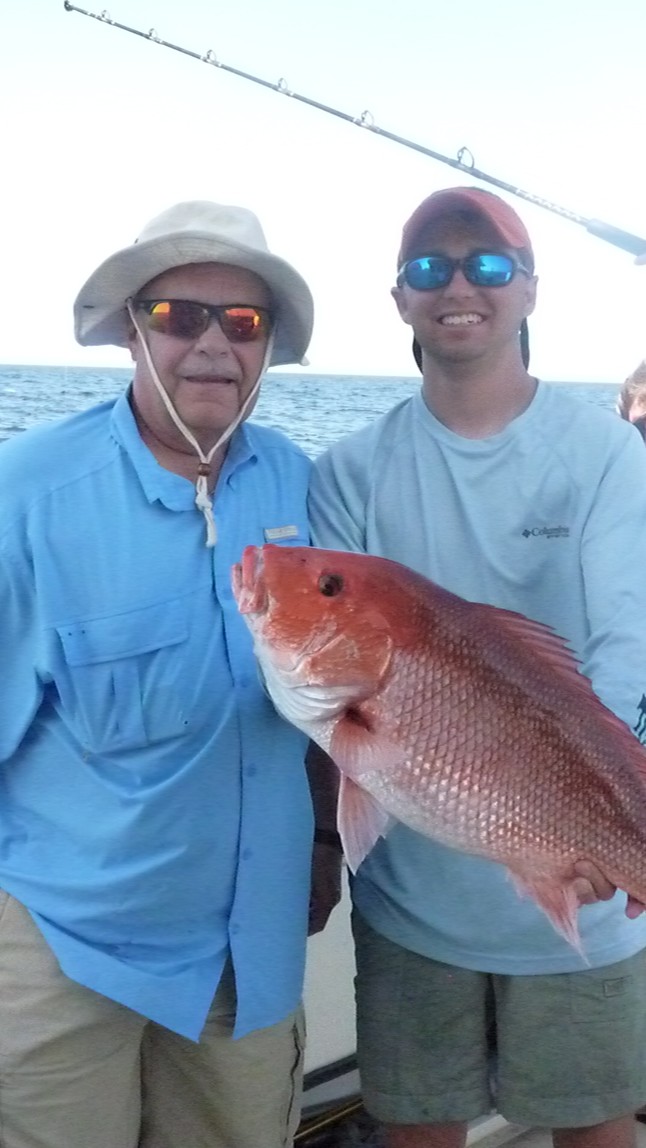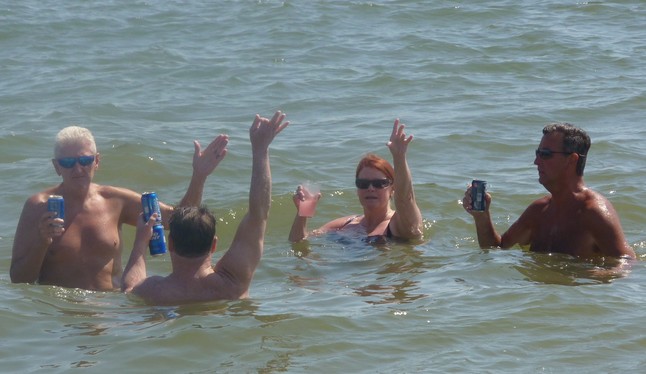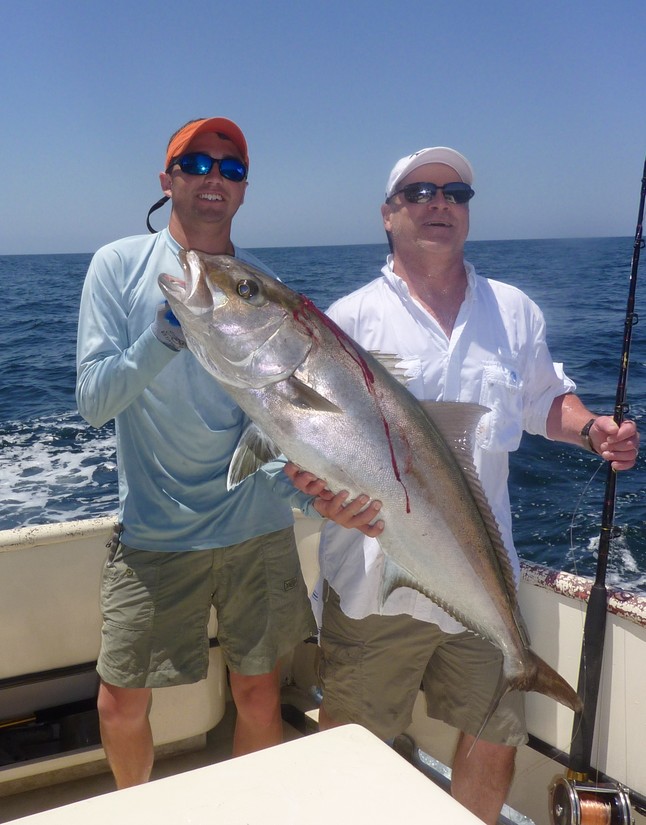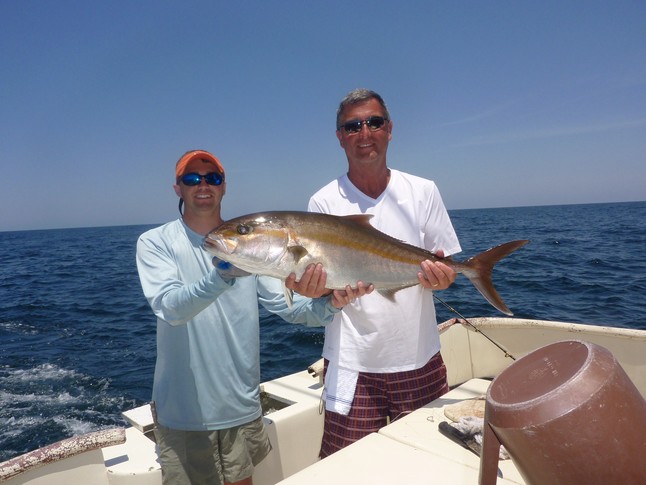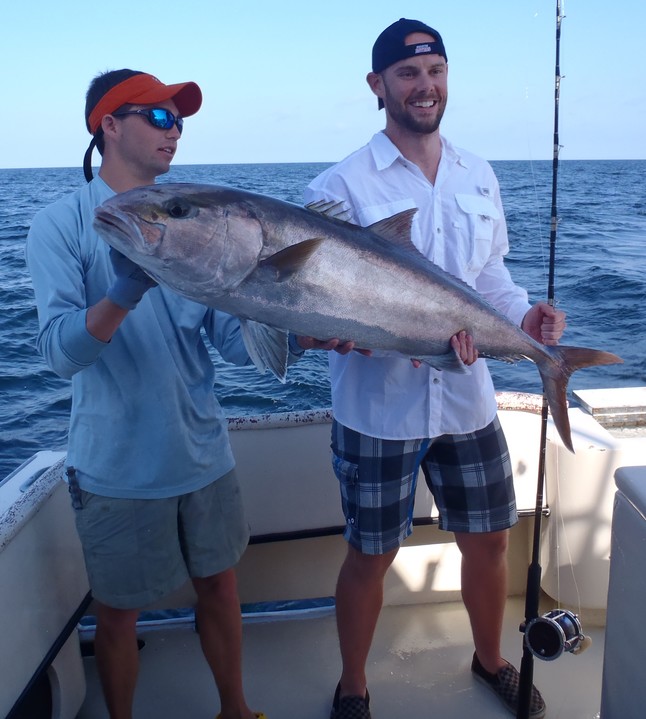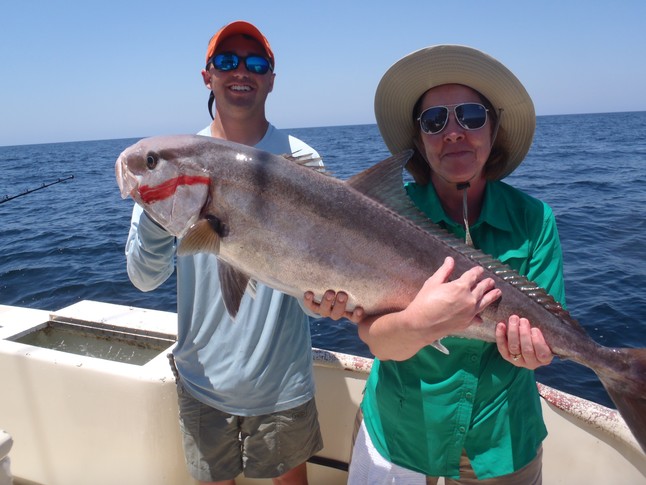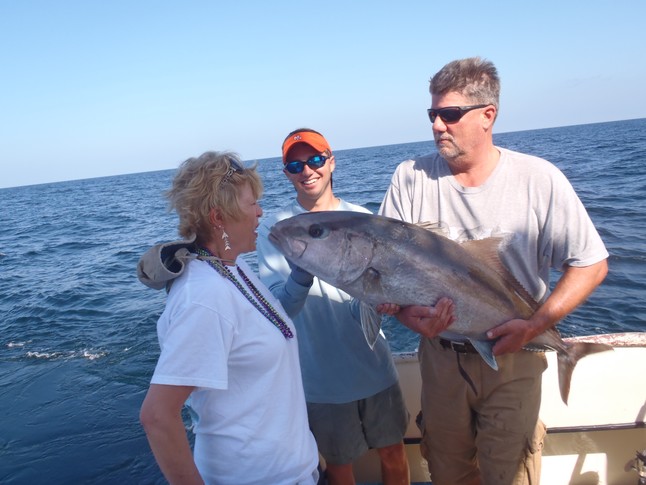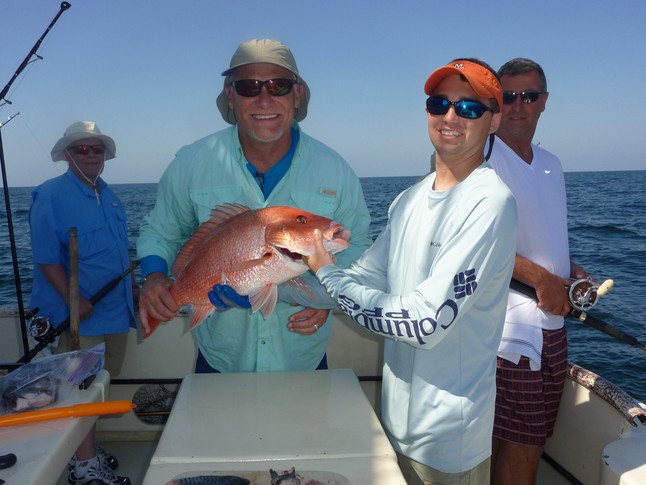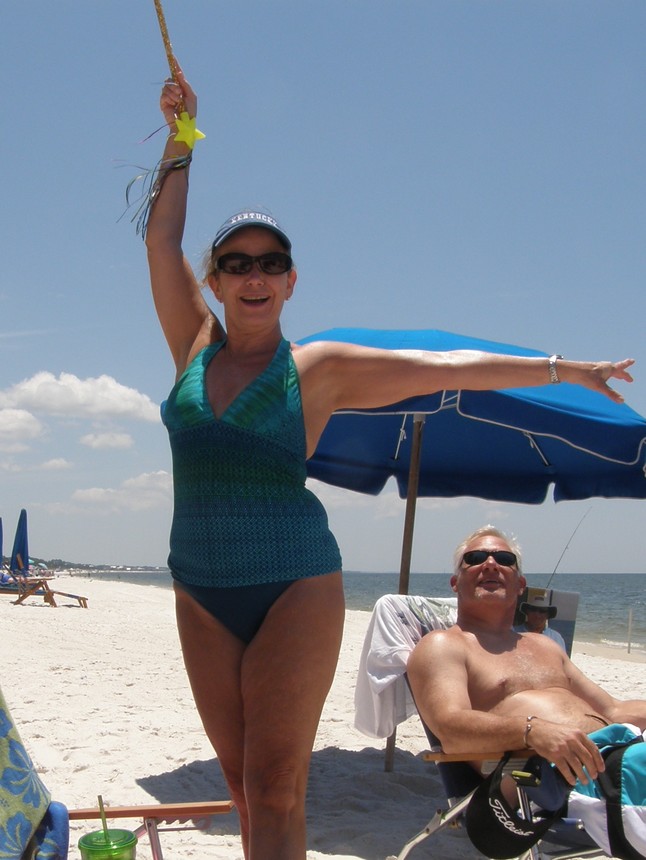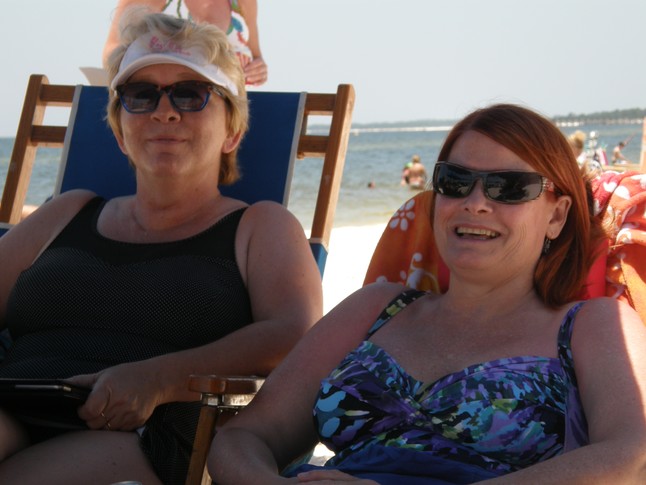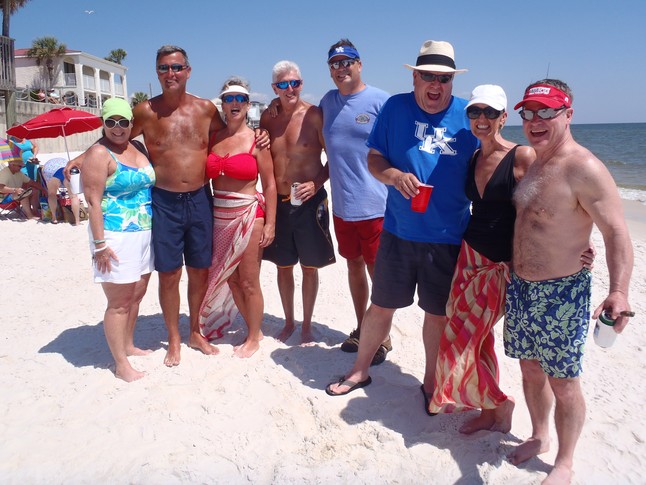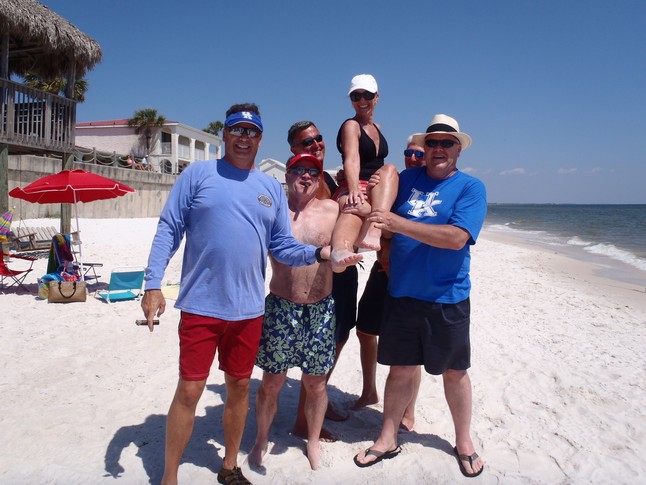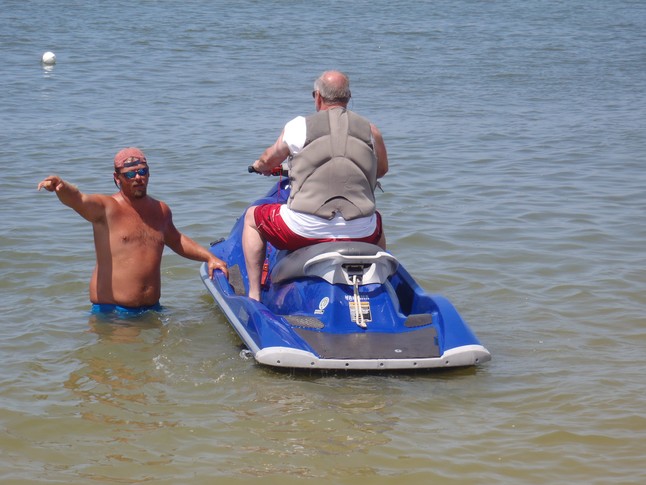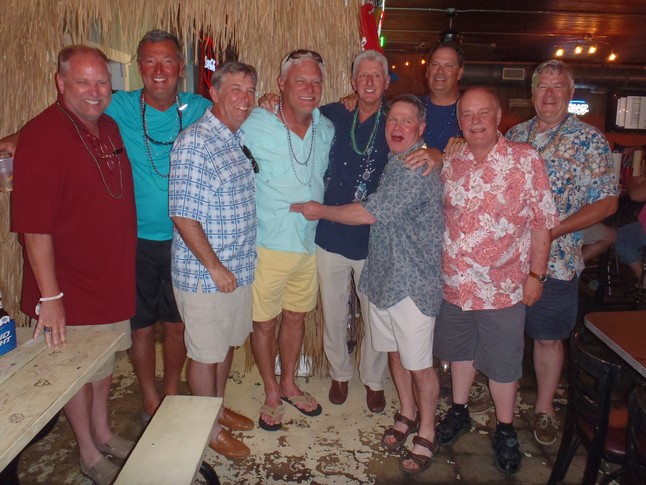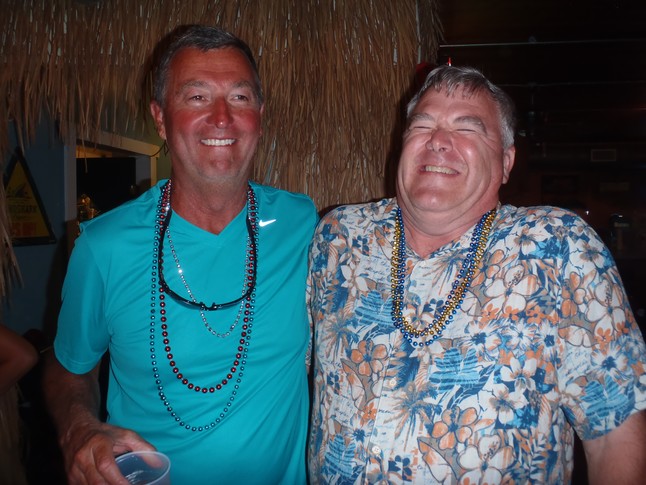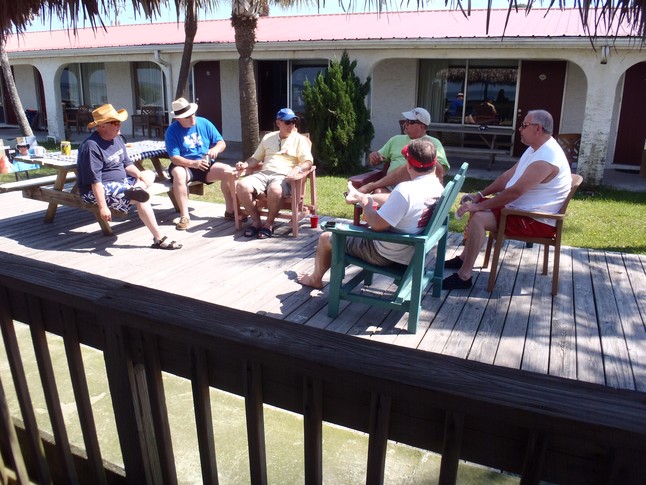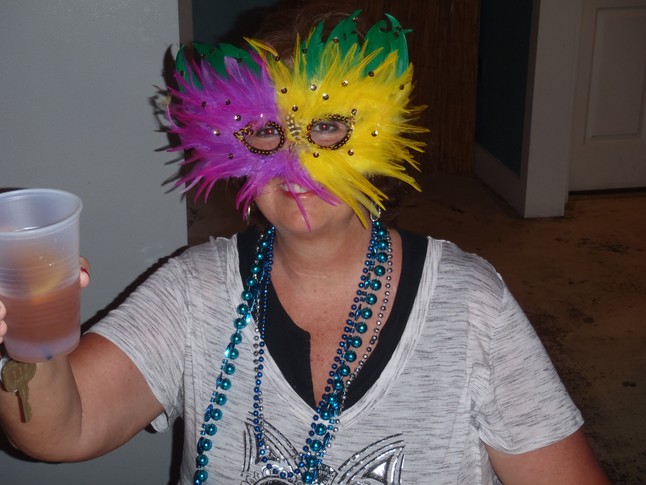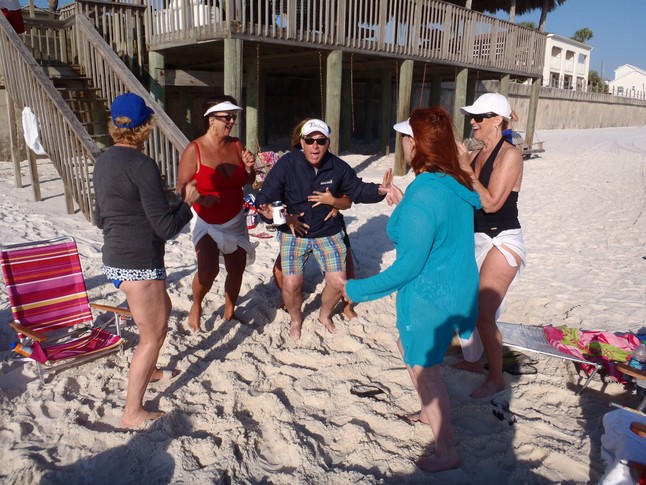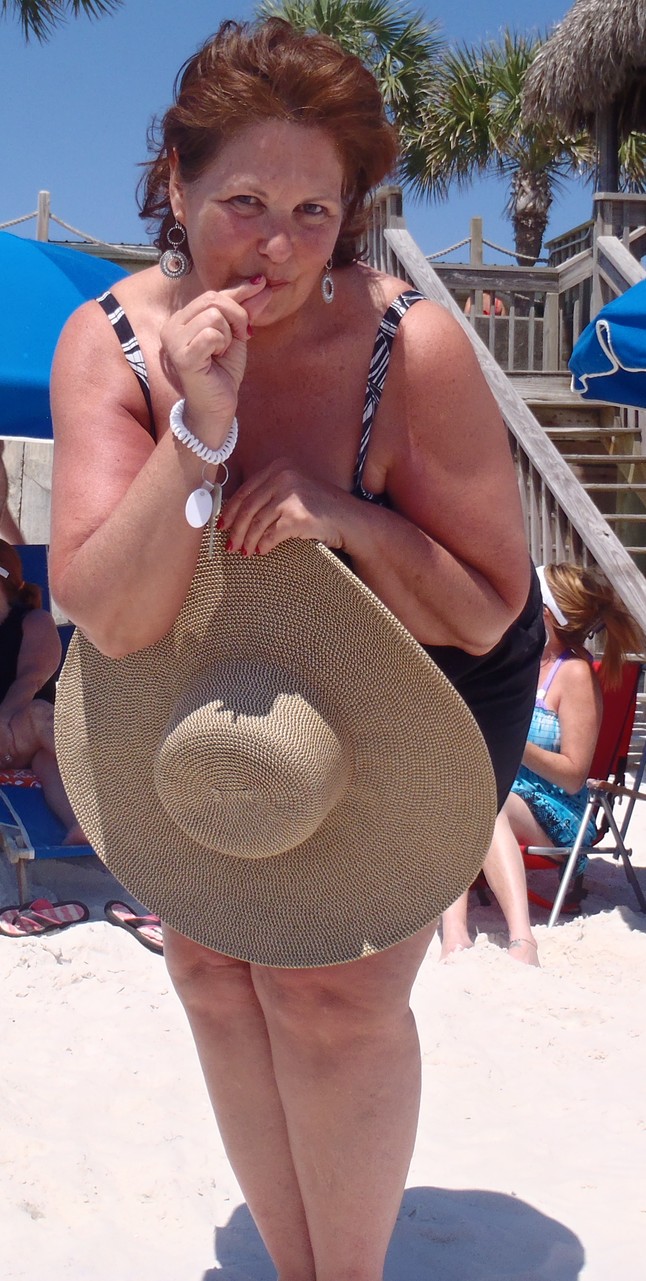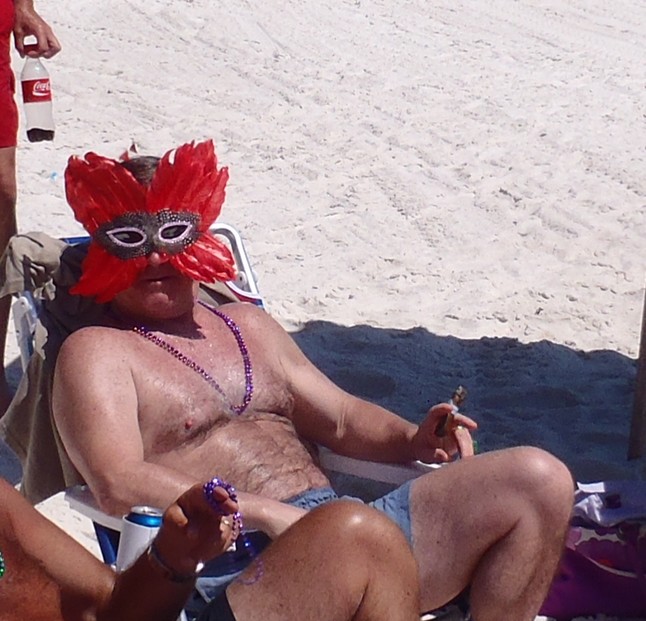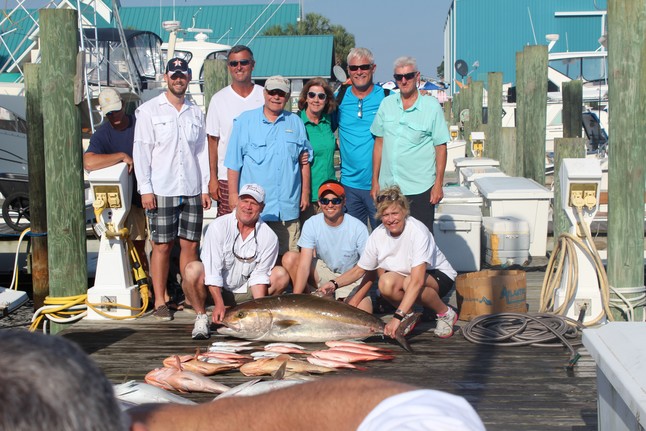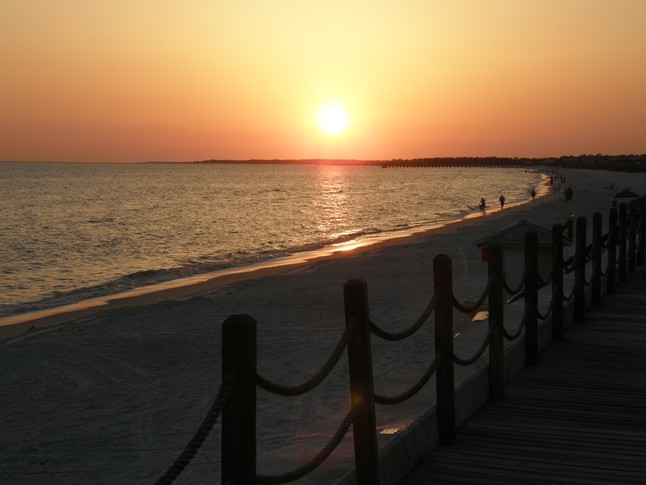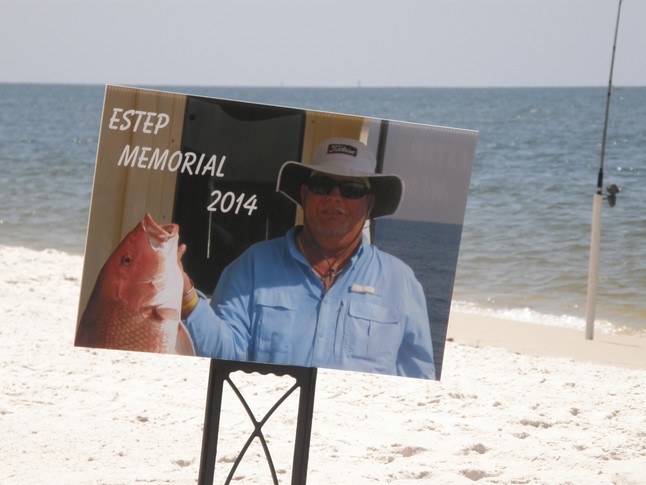 We are so thankful to be a part of Alexis's LIFE!
Congratulations on 1 year Cancer Free!!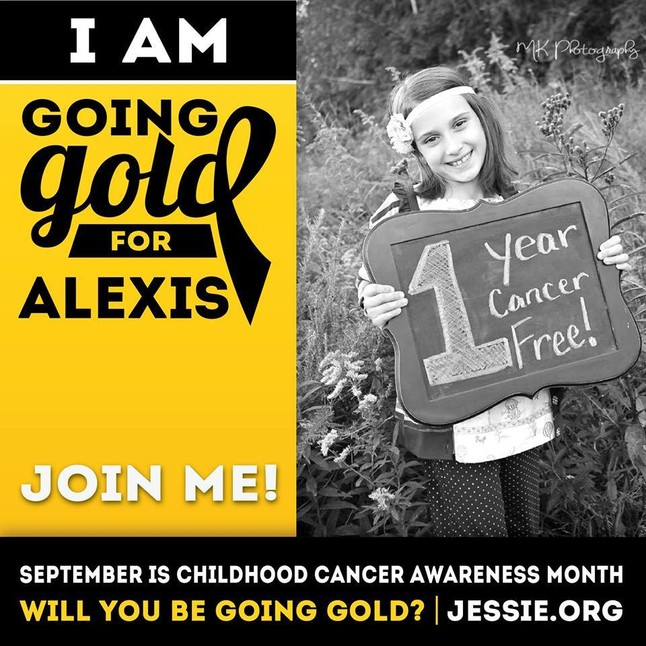 I wanted to share a picture that was posted on FaceBook, Aug 1,
2015, of Alexis Russell, one of the persons that the TFT
sponsored. We are so thankful that she is doing so well!